Signs Point To Johnny Football
May 4th, 2014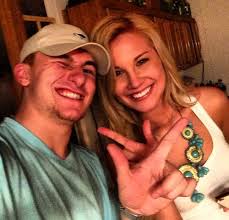 Joe has stated before he would be very surprised if at some point this weekend the Bucs do not draft a quarterback. First round, second round, third round, third day. It really would be a stunner if the Bucs meet for rookie minicamp next week and there is no drafted quarterback on the roster with his last name taped to the front of his helmet.
The fellows over at PewterReport.com believe the same thing. In fact, the chieftain of Pewter Report, Scott Reynolds, believes there is a 50/50 chance your newest Bucs quarterback could be Johnny Football if not Derek Carr.
The way PewterReport.com sees it, the Bucs very well could be taking a quarterback in the first round, and it will either be Manziel or Carr – perhaps the two best-suited quarterbacks for Tampa Bay head coach Lovie Smith himself and for offensive coordinator Jeff Tedford, whose system caters to strong-armed, accurate passers with mobility. The first case we'll state is for who we believe to be the highest-rated quarterback in the draft – Manziel.

Smith loves players from the state of Texas. As PewterReport.com pointed out in its Bucs' Pre-Draft Press Conference Observations story earlier this week, Smith, a native of Big Sandy, Texas, had a hand in drafting seven players from Texas schools while in Chicago. And a couple of key free agent signings – quarterback Josh McCown and left tackle Anthony Collins – were both raised in the state of Texas.

That, and the reality that the Bucs need a quarterback for the future as McCown turns 35 on July 4, coupled with the fact that Smith hired former Texas A&M strength and conditioning coach Dave Kennedy, puts Manziel, the former Heisman Trophy winner in play for Tampa Bay. And not just with the seventh overall pick.
Reynolds also notes that if indeed the Bucs are enamored with Johnny Football, then they won't roll the dice he is still on the board at No. 7; they would trade up to get him.
Now Joe knows all about the connection between Bucs offensive coordinator Jeff Tedford and Carr. The two have known each other since Carr was a youngster as Carr's older brother, David, played for Tedford at Fresno State. The two are on a first-name basis and damned near pseudo-family members.
But knowing a guy so well doesn't always mean Tedford wants Carr. Since he knows Carr so much, Tedford also knows both his traits and drawbacks as well. It's a two-way street.
No quarterback impressed Joe from a speaking standpoint more than Carr. Being polished and having a strong story to speak about doesn't necessarily translate into completions.