QB Brett Smith Among Undrafted Signings
May 11th, 2014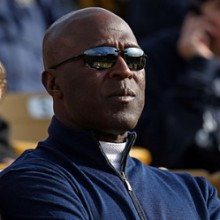 Jason Licht has mentioned that Lovie Smith has a special place in his heart and great respect for undrafted free agents, the true longshots of the NFL.
Per NFL.com, the Bucs have signed the following over the past 12 hours in what's known as the second draft.
Boise State WR Aaron Burks
Texas A&M WR Toney Hurd Jr.
Lynchburg CB Keith Lewis
Florida WR Solomon Patton
Wyoming QB Brett Smith
Eastern Michigan S Mycal Swaim
Now Joe doesn't get all hot in the pants about these guys like many fans do. Typically, a regime will have one or two that they really love and consider likely to make the roster. Cornerback Rashaan Melvin was that guy for the New Schiano Order regime last year. It was Leonard Johnson in 2012. Given that the Bucs only had six draft picks, one would think an undrafted player would have a better shot this season.
Joe absolutely does not think the signing of Smith says anything about the QB position.
Lovie Smith already is on record saying he wants four quarterbacks coming to training camp, which is pretty standard.
Also, Lovie already has said he is a two-quarterbacks kind of guy when it comes to setting a regular season roster. Keep in mind Lovie is the same guy who cut Josh McCown a few years ago in Chicago because he didn't want a third QB and he thought Jason Campbell was better.
So, no, Smith is no threat to the McCown-Mike Glennon mix.
To get on the Bucs' practice squad, any of these undrafted free agents would have to be cut, which exposes them to the rest of the NFL, then re-signed for the Bucs practice squad in September or later.