NNNOOOOOOOOOOO!!!
May 8th, 2014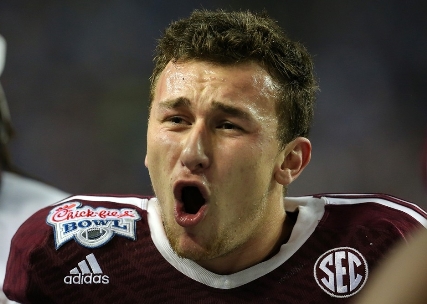 Goodbye, Johnny.
Johnny Football is now the proud property of the Cleveland Browns. A 20 second moment of silence was held at JoeBucsFan.com headquarters.
The most electric and talented quarterback in the 2014 NFL Draft will not wear pewter and red. He won't run Jeff Tedford's mysterious offense. He won't turn the Stadium on Dale Mabry Highway into a rocking cauldron of energy filled with screaming, sweaty drunk college girls.
And that's ok.
Yes, Joe has been all-in on the Johnny-Football-to-the-Bucs bandwagon for many months. But Joe's not shedding tears.
This is football, after all. And Johnny Football isn't the only quarterback in this draft with "franchise" QB potential.
Hardly.
Joe's beloved Bucs can still find their guy. Tedford's short list of draftable QBs who could win a Super Bowl surely has more than one name on it.