Mike Evans: Record Setter
May 8th, 2014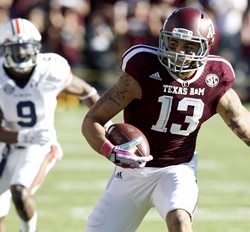 If new Bucs wide receiver Mike Evans is half the receiver he is in the NFL as he was in college, then he will be a very nice complement during Vincent Jackson's remaining years as a Buccaneer.
Last year, Evans became a record-holder for the Texas A&M Aggies, which is saying something given the rich history of the school's football program, notes Brent Zwerneman of the Houston Chronicle.
Evans set the A&M record in both receiving yards in a game (287) and season (1,394) and leaves behind not only an incredible highlight reel, but also quite an impression of toughness, even as a former high school basketball player at Galveston Ball who only turned to football as a senior in high school.
Though Joe isn't wild about drafting a clone of Vincent Jackson (Joe would have loved a speed demon to stretch the field), the fact that Evans has only played three years of football intrigues Joe. Dude is still learning the game.
Now the question is, after Josh McCown's contract dries up after the 2015 season, who is going to throw him the ball?