Mike Evans Catching On Quickly
May 17th, 2014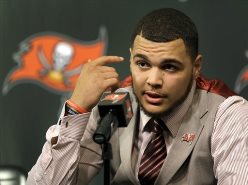 Yes, Bucs fans are still buzzing over the catch by Mike Evans yesterday. It was an impressive move by the No. 7 draft pick from Texas A&M.
Bucs coach Lovie Smith was impressed as well, but more so with other things Evans is doing.
Especially how quickly Evans is adjusting to life in the NFL.
"Very quickly," Lovie said. "Mike, of course, he has great hands and the physical ability, you can see that, but it does take a lot for a rookie to come in and we're not there. We're not game ready by any means right now, but we like the progress we've seen from Day 1."
Evans has been working and impressing with the veterans during his first few days as a pro. So a Grant Hill-like tomahawk dunk of a catch isn't swaying Lovie. He's seen that and more the past few days.
"It's good to see him up close going against a 5-10 defensive back," Lovie said. "We have some big tall men out there making plays. He has excellent hands, you saw that in college. We haven't been surprised about an awful lot, you take a player that high in the draft you expect to see some spectacular plays from them."
As Joe wrote yesterday, if Evans continues to make catches like he did yesterday, and certainly Vincent Jackson's size allows him to work over smaller defensive backs, Bucs fans should get very good value for the price of their tickets this fall.