Licht: No Change In QB Ratings Since February
May 1st, 2014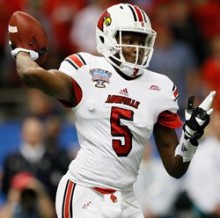 Jason Licht wasn't kidding when he said Tuesday that Pro Days are of little value to the Buccaneers.
The Bucs' general manager said this morning on WDAE-AM 620 that Tampa Bay's rankings of the 2014 quarterbacks class has been static for more than two months. That means Licht is saying Teddy Bridgewater's widely panned Pro Day did not impact the Bucs' brass.
Yes, Joe realizes Licht could be puffing a giant smokescreen, but it sure didn't sound that way.
"I'll tell you that our rankings of the quarterbacks and where we have them on the draft board really haven't changed over last couple of months," Licht said. "We try not to pay attention to the noise, and we've done a great job with that. We still feel the same way about the quarterbacks and where we have them ranked respectively as we did, like I said, back in February."
Hmm, Joe wonders what to what "noise" Licht is referring? Could it be super NFL Network draft guru Mike Mayock dropping Bridgewater from his No. 1 quarterback ranking in the draft all the way down to tied for fifth overall with Zach Mettenberger, following Bridgewater's mid-March Pro Day and chatter questioning his size and leadership?
Frankly, Joe was stunned Mayock did such a 180 on Bridgewater, given how phenomenal Bridgewater's game film is.
If Licht is being forthright, then Joe surely suspects the Bucs have at least two quarterbacks among their top-10 overall players. Now whether the Bucs stick to their board is another matter. Licht did say the perfect pick is one that represents where need meets evaluation.