Bucs' "Top-10 In Ink" By This Weekend
May 1st, 2014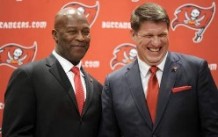 When Jason Licht was hired as Bucs general manager, he said he would pound on Lovie Smith's office door over and over and over again, if necessary, in an effort to sell Lovie on a player.
There would be no 11th-hour, draft-day hollering and angry chest bumping to make a decision, Licht said.
This morning on WDAE-AM 620, Licht said he and Lovie would have the top 10 players on their draft board completely settled in a matter of hours."That'll be in ink, at least by this weekend," he said.
Licht emphasized the Bucs put just as much effort into the second round and beyond. And at Tuesday's pre-draft news conference, Licht and Lovie painted a picture of a harmonious, happy working relationship. Siegfried and Roy were never this unified.
Joe gets that Lovie and Licht will be on the same page when the draft bell rings, but where it gets hairy and things change fast is when that phone rings and it's a team looking to trade up with a package of picks with 140 seconds to make a deal.