Jump Ball Plan Is Simple
May 14th, 2014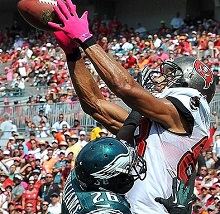 A reporter asked Bucs starting quarterback Josh McCown yesterday whether it was "too simplistic" to say the Bucs could now throw a bunch of high passes to their gargantuan receivers and doing that is simple and easy.
McCown said it was just fine to make that simple characterization.
How will the Panthers cover Mike Evans, Vincent Jackson, Austin Seferian-Jenkins, and say, Tim Wright, on 2nd-and-5 on opening day?
That's hardly a pretty picture for a defensive coordinator.
"That's one of the edges that you get with those guys, is their catch radius and their ability to put balls in certain spots because of that," McCown said. "I don't know how much you design necessarily plays around it, as much as it is, you know, you just take advantage of the 1-on-1 stuff that happens with them. It certainly is an advantage."
Bucs fans sure should have fun watching the passing game evolve, especially if the Bucs can develop a dangerous slot receiver.
Somewhat interesting amidst this clear desire for receivers who have basketball skills and can out jump opponents and win body control battles is that blade-in-the-thigh, mattress-in-the-yard Mike Williams was excellent at just that. And he actually played college basketball for Syracuse before devoting himself fully to football.
Regardless, the Bucs should have serious weapons on the field this season. Joe just hopes Jeff Tedford and McCown can get this all to come together quickly behind a thin offensive line in a brand new system.
The Bucs open at home against Carolina followed by another home game against the Rams. Those are two nasty front-7s that will put a load of pressure on the offense.