Johnny And The Bucs? "Not A Chance"
May 8th, 2014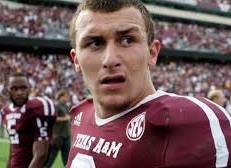 Roughly an hour after Peter King of theMMQB.com claimed the Bucs want Johnny Football but aren't willing to burn a No. 7 pick to get him, the "Custodian of Canton," eye-RAH! Kaufman of the Tampa Tribune, took to the same airwaves to emphatically state any talk of Johnny Football coming to the Bucs is hogwash.
Speaking to his close friend, Chris "Mad Dog' Russo on the channel that bears his name, "Mad Dog Radio," part of the family of sports stations heard exclusively on SiriusXM Radio, Kaufman declared any talk of Johnny and the Bucs is nothing but a smokescreen.
Chris "Mad Dog" Russo: I just don't get that Manziel is Lovie Smith's kind of a quarterback. What is you take if he is there at No. 7, which he probably will be? Go ahead.

eye-RAH! Kaufman: I am glad you are looking through the smokescreen baby, because that is all it is. Not a chance in the world. No chance. These rumors are silly. They are stupid. They are floated by people that don't know anything about Lovie Smith. Chris, Lovie Smith believes you win on defense and special teams. He went to the Super Bowl with Rex Grossman! He already named Josh McCown his starter here. This is not a guy who wants to take a chance on a boom or bust player. It's silly, Chris. It's not going to happen.
Man, Joe will be so glad when this draft is over so the emotional rollercoaster comes to a halt.
It's like some hot chick tells you she wants a round of heavy-breathing wrestling between the sheets in the small hours of the night but won't give you her e-mail address.