Joe Talks O-Line, OTA Impressions, Cannon, Herron, Top Battles, D-Line Depth & More
May 30th, 2014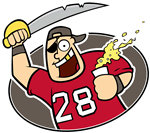 Joe had some rapid-fire fun this morning with Bucs beat reporter Tom Krasniqi of WDAE-AM 620 and former Bucs guard Ian Beckles.
All kinds of topics were on the table.
Krasniqi even shared his belief that Carl Nicks will never take another NFL snap. You can enjoy the 10-minute podcast below.