"He's Not Here For Voluntary Work"
May 27th, 2014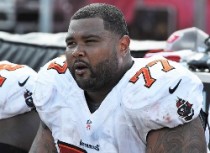 Joe can't really translate body language reliably, but Joe's pretty confident Lovie Smith was frustrated by the absence of Carl Nicks today.
Joe asked Lovie about Nicks' absence today — and at last Tuesday's OTA session open to media.
Lovie told Joe there was "no update" and "he's not here for voluntary work." And then Lovie moved on to the next question.
Ouch.
Yes, the work is voluntary, but in reality it's not. So it's fair to read negatively into a player's absence, unless his team offers an explanation.
Joe's unsure why Nicks has passed on the chance to get the "mental reps" he talked about with media in early April.
After Lovie's response today, Joe would say there's slim odds Nicks plays in the NFL again. Nearly his entire contract is guaranteed for injury this season.