Herm Edwards Says Bucs Bound For Super Bowl
May 28th, 2014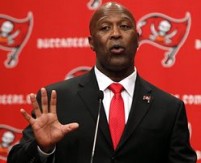 No pressure, Lovie. .
Your old comrade is calling your team Super Bowl-bound on national television.
That's right. Former Bucs secondary coach and Jets and Chiefs head coach Herm Edwards believes the Bucs are headed to Arizona for a Super Bowl clash with the Steelers in February. That was the word from Edwards during yesterday's episode of NFL on ESPN. John Mamola of 620wdae.com documented the prediction.
Apparently, Edwards is won over by Tampa Bay's defensive talent and how Lovie will maximize it.
Joe loves the optimism; it surely feels good this morning. Joe's got extra bounce in his step as he heads for a plate of pancakes. But Joe can't buy in just yet, not after identifying the first-team offensive line yesterday at practice: Anthony Collins, Patrick Omameh, Evan Dietrich-Smith, Oneil Cousins and Demar Dotson.
And, sorry, Joe has to mention the quarterback position. Having the fourth best QB in the division — and no QB with elite potential — is a severe handicap to greatness.