Evans Will Be A Force… Later
May 22nd, 2014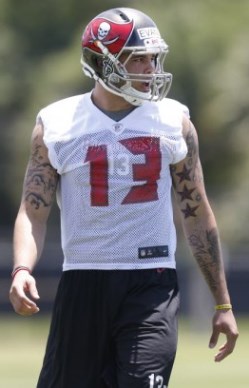 Just two days ago, Bucs general manager referred to first round draft pick Mike Evans as "a Godzilla" in practice. The wide receiver very well may breathe fire on defenses and stomp on defensive backs in his path to the end zone.
Joe has only seen significant Evans practice time against camp meat — future bartenders, insurance claims adjusters and longshoremen. And yes, he terrorized them just like the reptile in the hit movie does mortals.
(Evans "tweaked" his hamstring so early in practice against the vets, Joe couldn't get a grasp of how he fared against professional cornerbacks.)
Joe's good friend Justin Pawlowski has high hopes for Evans, too. The WHFS-FM 98.7 sports personality fully expects Evans to go all horror flick on defenses. In three years, though, not so much this season.
Rookie wide receivers typically do not put up huge numbers their rookie season because of the adjustment from college defensive backfields to pro defensive backfields, and I do not envision that being different for Evans. With Vincent Jackson on the other side, Evans will have an opportunity to make some plays as a rookie, but by year 3, Evans has the potential of being one of the most dominant receivers in the game today.

Evans' blend of size, speed, and hands gives the Buccaneers a legitimate threat that opposing defensive coordinators will have to game-plan against for years to come.

The Bucs will stick with Josh McCown and Mike Glennon for now, but if they do decide to ever invest in improving that position with a talented rookie, the positive for that young quarterback is that he'll have Mike Evans just scratching the surface of stardom.
Joe sees where Justin is coming from and agrees and disagrees. There may be too much hope put on Evans' shoulders this fall. Expecting any rookie to be a Pro Bowl player is a bit much. Perhaps we should tap the brake?
But if a rookie quarterback can depend on Evans in the Bucs' future, does that mean a rookie quarterback couldn't depend on Vincent Jackson? Joe is not sure he follows that line of thinking.