Dominik Seems To Approve TE Draft
May 10th, 2014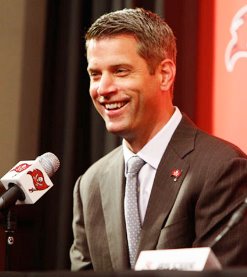 A lot of Bucs fans seemed to raise more than an eyebrow last night when the Bucs drafted Washington tight end Austin Seferian-Jenkins. His selection gave the Bucs seven tight ends.
Lovie Smith and general manager Jason Licht both claimed that ASJ was so high on their boards when the Bucs were on the clock, they couldn't pass him up.
Lovie said ASJ was the highest rated tight end on the Bucs draft board. Though he didn't specifically cite ASJ, former Bucs rock star general manager Mark Dominik this morning did mention the Bucs and tight ends.
Co-hosting with Howard David on SiriusXM NFL Radio, Dominik explained his thought that the Bucs were in the market for a tight end in the first round.
When discussing new Lions tight end Eric Ebron, Dominik said, "I thought he would have been in play for the Bucs at No. 7."
Dominik then discussed how having two solid tight ends is really a strong offensive asset for teams.
Dominik wasn't far off in his assesment. It turns out the Bucs were looking at tight ends, though not in the first round, in the second round.
Good observation by Dominik. And probably better than most of the frauds who are responsible for this galling mock draft industrial complex that assaults us.