Austin Seferian-Jenkins: Consistent
May 9th, 2014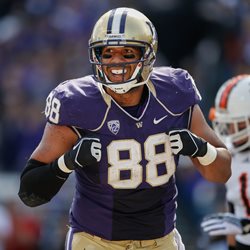 Though Joe has read and heard bad things about how much Bucs second round pick Austin Seferian-Jenkins' numbers have fallen off, Joe notices consistency.
Seferian-Jenkins saw his number of catches drop the past season from 69 catches in 2012, to 41 last season. It could be that Washington had garbage for quarterbacks.
But, again, Joe sees consistency. Real consistency. Here are the averages yards per catch for the former Huskies hoops player: 12.5, 12.3 and 13.1. That is what Joe calls consistent.
He is an athlete, just like Mike Evans, just like Vincent Jackson. A big athlete. Perhaps Lovie, knowing none of his quarterbacks on the roster will ever see Canton short of buying a ticket or a house, will just throw up jump balls and hope his receivers can haul them down.
Sure smells like it.