Alley-Oop To Mike Evans
May 16th, 2014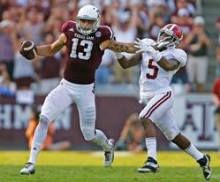 Joe's words can't do this justice, but Mike Evans simply dropped every jaw at Bucs rookie minicamp this afternoon with a catch that made Joe understand why legendary talent evaluator Gil Brandt said Evans has the best hands he's seen since Calvin Johnson.
Evans was running a 20-yard seam route from the right side in 7-on-7 work, and a high pass came from linguini-armed quarterback Brett Smith of Wyoming.
The Bucs' first-round draft pick, Mr. Mike Evans, raised his right mitt and gave a quick-twitch jump in stride and hauled in the pass with one hand and kept on running. What was most stunning was Evans' left hand never came up. It stayed down to keep his balance — one part ballet dancer, one part ferocious bear, two parts Dominique Wilkins catching and slamming an alley-oop.
Yeah, it was just a brief moment against low-grade defense, but it was a glimpse of the "Dunkaneers" Jason Licht referred to last weekend.
Wow!