VJax Trusts Coaches To Get Him Open
April 8th, 2014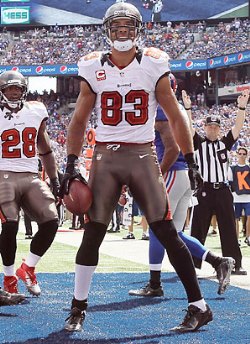 Yes, the Bucs traded away gifted No. 2 wide receiver Mike Williams last week for petty crimes against humanity, such as a mattress in the front yard, having the gall to have a grease fire in his kitchen, and the nerve to be knifed by his brother.
As Joe stated this morning, the trade did not make the Bucs better (in April). Joe flashes back to last year after Williams got hurt, ending his season prematurely. With only Vincent Jackson to worry about, opposing defenses mobbed Jackson like a drunk, scantily clad hot chick at a fraternity beer bash.
It was a wonder Jackson didn't need oxygen on the sidelne he was so suffocated by defenses.
Now, with the departure of Williams, it seems Jackson is right back to where he finished last season. But when asked about if he needed some relief, whether that be Tim Wright at tight end or maybe Louis Murphy as potentially Williams' successor, Jackson believes everything will work out.
"I trust our staff," Jackson said. "I trust all the players we have in this building. They are here for a reason. They are professionals. They are good. Anybody we are able to put on the field are going to be able to make plays. No matter who it is, I love everybody we have here so far."
Jackson wouldn't get too deep in the new playbook of new offensive coordinator Jeff Tedford, partially because, well, Jackson doesn't want to spill the beans and partially because, as he said, it is only the second day he has been exposed to Tedford.
Jackson did say, as center Evan Dietrich-Smith said on SiriusXM NFL Radio a few weeks ago, that the offense would be "up tempo" — but balanced.
"We're going to move the ball around a lot," Jackson said. "Change the speed of the game. That's exciting. That's fun. It will allow us to dictate a little more to the defense. We want to be very versatile."
Here's Jackson's full audio from Joe's friends at WDAE-AM 620.