Spence Sure Weed-Speed Issue In Rearview
April 22nd, 2014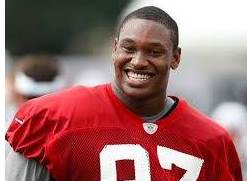 Yes, defensive tackle Akeem Spence was arrested in Alabama in January after a traffic stop. Police claim he was driving over 100 miles per hour while in possession of marijuana.
Of course, Joe talked to Spence about this today, the first time Spence was available to media since the incident.
Spence's "bench trial" in rural Alabama on the weed charge was bumped back to July earlier this month. He has been ordered to pay a fine for the speeding violation or have his day in court in July, as well.
Spence said he's "real confident" the matter will be disposed of smoothly in Alabama court. Spence has had no prior legal troubles.
In discussing the incident, Spence did not claim innocence and seemed contrite.
"That was some stuff that was supposed to be taken care of last week, but I told them to push it back [to the summer] because I wanted to be here. I didn't want to miss any work days," Spence said. "It's just something small. Some [stuff] that happened. It was a mistake."
Spence also was confident the new Bucs regime won't hold his actions against him as long as he does the right thing moving forward.
Joe hopes Spence has learned a valuable lesson.