Joe's Last Word For Some Mobile-Only Readers Of JoeBucsFan.com
April 22nd, 2014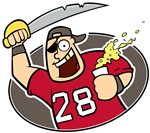 Dear JoeBusFan.com readers,
Joe is aware that a small percentage of mobile-only readers of JoeBucsFan.com experience redirects at times when viewing JoeBucFan.com via their smartphones.
It's a problem that Joe is working on, and it's also a problem that has been an issue for several major websites, the NBC family of sites, among others. Thankfully, Joe has such a gigantic readership (730,000 visits last month alone) so he gets what feels like lots of complaints. However, those complaints are not something Joe will address any longer. Responding to them specifically wastes Joe's time — time that is much better spent on covering all things Bucs.
Again, Joe is working on the issue with his technical gurus and has been for many weeks. Also, Joe has plans in the works for mobile readers that could lessen the impact of this issue and, for some, remove the issue altogether.
Regardless, Joe hears the pain that some of you are having. Sorry. Life is very smooth for most readers, and great for all off the smartphone.
Please trust that Joe is doing his best for all readers.
From here forward, every time the issue is brought up to Joe via Twitter or in the comments section, Joe will respond by sending a link to this post.
Go Bucs!