Plenty Of Time To Adapt
April 23rd, 2014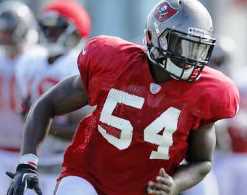 Lavonte David, the stud Bucs outside linebacker, is a laid back dude off the field. He's the kind of a guy who goes with the flow. So now that he's experiencing a coaching change for the first time in his NFL career, David is far from freaking out about the changes at One Buc Palace.
"Everybody is excited to get back on the field and show what we can do," David said. "We have a lot of time. We started early. Guys are catching on already and that is a positive sign. Now we get a chance to get on the field and show off a little bit.

"It is kind of different seeing new faces around here and learning to adapt to how things are run [now] around here. It is a lot of learning to do but I will get there. That's part of being professional. You never know when [a coaching change] may happen and you have to adapt to it. So far, so good."
While many players are happy that the calm demeanor of new coach Lovie Smith replaced the toes-on-the-line approach of former Bucs commander Greg Schiano, David offered a different take.
"I don't know if [the coaching change] is refreshing [for David] because I never had a problem with Schiano."