Loaf Grades Arriving This Morning
April 23rd, 2014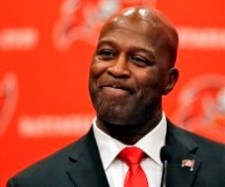 New Bucs cornerback D.J. Moore played for years in Chicago under Lovie Smith. So before yesterday's inaugural practice under the new Bucs regime at One Buc Palace, Moore was one of the few Buccaneers who really knew what to expect.
He also knew what was coming after practice.
Lovie preaches running to everyone on the field. He wants guys that will run and hunt the ball on defense, and hungry players on offense. Don't run in practice, and you'll be outed after coaches watch film or sometimes right on the field. Moore said that will be a change for many Bucs.
"He don't believe in you running after practice. He wants you to run during practice. He wants everybody running to the ball. And a lot of guys think they want you to turn and run a little bit. No. He wants everybody from D-line to cornerbacks, he wants you to run all out. He charts loafs," Moore said. "So a lot of guys probably have never had that, coaches getting you the next day saying, 'You're loafing in practice.' They might not realize that's a focus.

"If you're tired, just come out."
Hmm, with an advance heads up from Moore, Joe noticed the Bucs seemed to pick up their hustle late yesterday under the hot sun at One Buc Palace.
Joe heard one coach bark, "jogging isn't football."