"Not Hearing Great Things" About Nicks
April 21st, 2014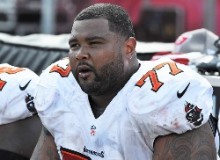 More light will be shed on the Carl Nicks situation tomorrow at One Buc Palace to be sure. Will Nicks, the human armoire and former All-Pro left guard, be on the practice field working with his teammates in shorts and helmets?
One insider isn't expecting great news.
Speaking today on WDAE-AM 620, Bucs beat writer Rick Stroud was asked what he's hearing about the mysterious rehabilitation of Nicks from MRSA and multiple foot surgeries. Stroud answered in almost a hush tone.
"I'm not hearing great things. I'm not hearing great things," Stroud said of Nicks. "There's no reason to cut him because quite frankly the acceleration on his salary cap is not going to help them. So you give him every chance right up until the start of the season, and maybe beyond if you want to put him on the [physically unable to perform] list."
Joe doesn't know what to think. The Bucs have said multiple times that Nicks is rehabilitating regularly at One Buc Palace and that they're encouraged and hopeful, but the Bucs are never specific about what Nicks is actually doing.
Is he performing any weight-bearing exercise, or is he just riding a bike and working his upper body in the weight room? Can he run? Heck, can he walk smoothly?
The only sure thing about Nicks is that he's got another 4 1/2 months to get healthy, and the guy is still young enough, 29 in a few weeks, and is a true elite talent when healthy. But counting on Nicks is pure fantasy at this point.
(You can listen to Stroud's full audio below.)