NFL Network: Bucs Primed For Round 1 QB
April 17th, 2014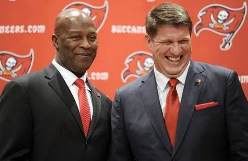 Smokescreen or the pulse from a true insider?
NFL Network reporter Ian Rapoport, who as a league employee has a pipeline to everyone in the NFL, was talking tonight about how the Bucs are thoroughly primed to draft a quarterback in the first round of next month's draft. Cue the Kool and the Gang. NFL.com summed up Rapoport's comments.
We all know the Jaguars and Browns are game to pick a new quarterback, but who might surprise us? Rapoport named Tampa Bay as one team prepared to dial up a signal-caller at No. 7 after the Buccaneersspent the pre-draft process hosting a laundry list of top prospects at the position.
As Joe's written over and over, now is the time for the Bucs to identify and draft a quarterback they believe can be their "franchise" guy. What round of the draft that is in is unknown.
Perhaps their thorough evaluation reveals Jimmy Garoppolo is their man in Round 2? Joe doesn't know. Joe just wants to see the Bucs upgrade the position immediately with a guy who has that "franchise" potential — not next year.
Sorry, Joe doesn't believe Mike Glennon and/or Josh McCown have the necessary talent. If the Bucs strike now, then they don't put themselves a year behind in the process of returning Tampa Bay to the ultimate glory.
Joe will raise the last frosty mug of the evening toasting the chance Rapoport is correct — and not blowing Bucs-generated smoke.