Mike James Is Running, Cutting, Ready
April 15th, 2014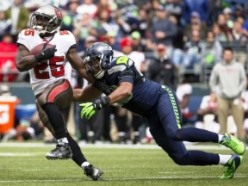 Talented second-year running back Mike James stood before media today at One Buc Palace and was all smiles. His broken — and repaired — ankle is feeling great.
Looking rocked up and chiseled — James said he's 232 pounds — he talked about his future and the loss of the offensive line behind which he was so successful last season.
James wouldn't commit to when he'll be cleared to practice. But he said it's possible he'll be on the field for the Bucs' first minicamp next Tuesday.
Right now, he said he's wearing "just a compression wrap" on the ankle. "Standard protocol." James said he's been running on the ankle "and everything that's football related" for so long that he doesn't even remember when he started that.
James did not reveal much about the mysterious Bucs offense and he does have a soft spot for the departed O-linemen.
"I definitely miss those guys but I love the new guys. It's a bittersweet thing in this business," James said.
As for his play in 2013, James said a look back at his film revealed he was an asset.
"The ability to keep the chains moving.  No negative plays. I mean that's something I pride myself on," James said. "I want to always put the offense in a situation to score and win. Personal stats are personal stats, but you know they're nothing if you're not winning. So that's what I'm always trying to do, put the offense in a positive mindset, a positive gain."