Lovie's Plan Executed
April 22nd, 2014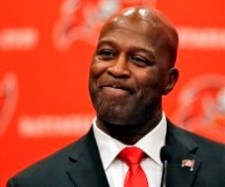 The Bucs did more shuffling this offseason than a Vegas blackjack dealer. Some 19 new players were brought in and a boatload of players were sent packing.
Holdovers like Gerald McCoy joked that returning for offseason conditioning at One Buc Palace was like the first day of high school. He knew some of his teammates, but most were strangers.
And while the Bucs went on a make-it-rain spending spree for a few new free agents, the Bucs may not have hurt themselves financially. That's the word from "The Professor," John Clayton of BSPN, who appeared with Pat Donovan and Aaron Jacobson of WDAE-AM 620 over the weekend.
"The weird part is, they spent more than anyone else, about $142 million in unrestricted free agency," Clayton said. "But when you look what they did under the cap, it was pretty close to, roughly, what they moved or cut in their cap room. So in a lot of ways, they got a few more players. They've got a little bit better depth. They got a little bit younger. How much better? Mmmmmm… debatable.

"But what you can be impressed with is they had a plan, they were aggressive, and they got it all done."
While Clayton said the Bucs may not win more than four games this season, he did offer that seven wins is realistic in 2014. With all the hype surrounding the hiring of Lovie Smith and Jason Light, Joe thinks fans would be sorely disappointed if the Bucs had yet another losing season.
Joe can't disagree with Clayton. Right now nobody knows what the Jeff Tedford offense is. And the current roster (we are still over two weeks away from the draft) has question marks all over the offense. Predicting a winning season at this point is taking a major leap of faith that the offense will be just fine.
To hear the full interview, click the orange button below, courtesy of Joe's co-conspirators, WDAE-AM 620.