Kyle Van Noy In The Second Round?
April 21st, 2014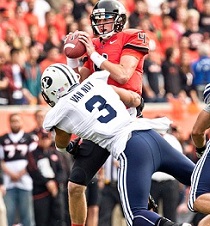 Even with all the talk of the Bucs needing or wanting to draft a quarterback, an offensive lineman and a wide receiver, the option of Bucs general Lovie Smith getting wowed to his defensive core by a college prospect shouldn't be discounted?
What if ferocious Khalil Mack is sitting there at No. 7? And what about Brigham Young linebacker Kyle Van Noy?
Bucky Brooks, one of NFL Network's three full-time draft gurus, pegs the versatile athletic Van Noy as a second-round Buccaneer man in his latest mock draft.
38. Tampa Bay Buccaneers: Kyle Van Noy, OLB, BYU
Lovie Smith inherits a loaded defense, but needs a versatile SAM linebacker to fill out the line up. Van Noy is a disruptive defender capable of creating chaos as rusher or in coverage
Joe can't agree that the Bucs need a SAM linebacker. They do have Jonathan Casillas and Dane Fletcher, a couple of young veterans the team signed this offseason. The Bucs surely have more pressing defensive needs. Is there is a legitimate backup for Gerald McCoy? Another cornerback sure would help Joe sleep at night.
Van Noy stands 6-3, 243 pounds. His motor has been questioned but not his diverse talent and potential. Here's an excerpt from a Desert News story on him this winter.
Van Noy has already impressed at the Senior Bowl in late January. NFL analyst Phil Savage, a former general manager for the Cleveland Browns, ranked Van Noy as the top outside linebacker during the Senior Bowl game and practices.

"Kyle was the most complete outside linebacker on the North and South rosters because of his combination of athleticism in space, his ability to stack the run at the point-of-attack and his overall pass rushing skills. He can play on or off the line of scrimmage and appeared equally secure in defending the run or pass," Savage said.

"In reality, he is versatile enough to fit the 3-4 or 4-3 systems and play in Sub as a rusher or coverage defender. Kyle should become a starter early on and enjoy a productive NFL career."
Again, Joe can't read Lovie's mind when it comes to how exactly he wants to build the Buccaneers, but this proposed pick surely doesn't seem to fit, not this year. It's too early for a strongside linebacker that might have limited versatility and lacking the wiring to become an elite special teams player.
For those who want some insight into Van Noy, he penned an interesting diary entry for USA Today.