Lovie Is Over Chicago
April 24th, 2014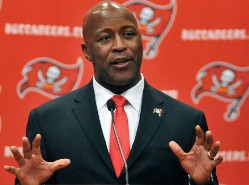 When the NFL schedule was about to be announced, many pundits figured there was a lot of interest in the Bucs-Bears game because of Lovie Smith.
The new Bucs coach is here, in part, because he was jettisoned by the Bears nearly two seasons ago after the gall to win 10 games.
Some believe Lovie may have strong personal feelings about some of his former players still in Chicago, thus he was looking forward to his return to the Second City, when the Bucs head there on Nov. 23. People who thought that would be, well, incorrect.
"Why would that be of any concern to me?" Lovie said. "When you play Chicago – I think most of you kind of know me a little bit, I understand I've been there for a while, but we want to beat Chicago as much as we want to beat Cleveland and anybody else on the schedule as much as anything. I know we're eventually going to go up there and that's fine. Hopefully in about a month I'll have my house sold, I don't have a whole lot of connections up there anymore."
This really isn't a surprise to Joe. Chicago is in his rearview mirror. The Bears launched him. Why would he have good feelings for the Bears? He is not quite two years removed from being shown the door.
A win is a win, no matter if it is the Bears or the Dixie Chicks.