Glennon Offers "Grace Period" For Rookie QB
April 24th, 2014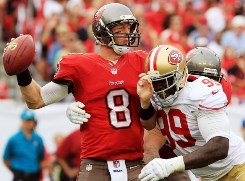 The Bucs won't trade Mike Glennon after drafting a rookie quarterback says the new captain of the anti-Johnny-Football Mob, Shaun King, the former Bucs QB and current NBC Sports and Yahoo! Sports analyst.
King likes the tranquility Glennon could provide as a third quarterback on the Bucs roster.
King was asked on the Ron and Ian show on WDAE-AM 620 yesterday whether the Bucs would trade or keep Glennon if they draft a quarterback in the NFL Draft, just two weeks away.
"I think they bring him in. And I think what Glennon allows them to do is be patient with whatever quarterback they draft," King said. "It's interesting at No. 7. If the guys in front of [the Bucs] decide not to go quarterback, and if Teddy Bridgewater and Blake Bortles are there at No. 7, I don't know what Lovie and they would do.

"I would take Bridgewater. But I don't know what they would do. In the second round, if you can get a Zach Mettenberger, I think he has as chance to be a really good player. When you start getting in the third round, you know, I think Aaron Murray, the kid who's from Tampa Plant [High School], who's kind of been under the radar because of the [knee] injury. But when you go back and look at his film, he was much improved as a senior. He holds all the SEC passing records. You know I think there are some guys as you get to the second, third, fourth round, who if you give them a year to acclimate to the NFL, and you'll have that grace period with Glennon, I think they can be good players.
Joe has to disagree with this scenario. Lovie Smith and general manager Jason Licht, Joe believes, would make a draft-day trade of Glennon if they draft a rookie QB they believe has "franchise" potential. Lovie told local media in March that he cut Josh McCown in Chicago years ago, not because he didn't like McCown, but because he only wanted to carry two quarterbacks and believed more in Jason Campbell. Lovie has said he's a two-quarterbacks kind of guy.
Now Joe thinks there's a chance the Bucs hold Glennon through training camp and possibly into the regular season, for the sake of getting a good look at the rookie QB and seeing how the need for a solid backup like Glennon develops as the season progresses and injuries mount.
(You can enjoy King's full WDAE-AM 620 audio below.)