Leaner, Faster Mason Foster
April 24th, 2014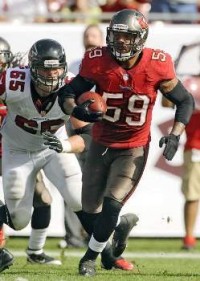 Mason Foster planned to feast at the Buccaneers team barbecue right after practice today, but that's out of the norm for him.
Foster is leaner and says he's faster as a result. Right after the Super Bowl, Foster vowed to change his eating habits and looked for an OK from Bucs coaches.
He got a thumbs-up and is loving the results he felt during the Bucs' three-day minicamp that wrapped up this afternoon.
"I used to play at like 245, but I'm down to 235. I feel better, man. It's something that I thought would help me, and it has. I felt great this minicamp," Foster said. "I did the diet and everything on my own, but coaches told me you don't have to be 250 pounds to play middle linebacker here. So I started working hard on it, eating and doing the right things to get healthier."
Foster said he's not sure if he's finished losing weight.
Lovie Smith has made it clear he wants everyone on his defense flying to the ball, so Joe suspects Foster won't get a talking to if he comes to training camp at 230 pounds.