GMC Talks Stinking Panthers, Lovie
April 24th, 2014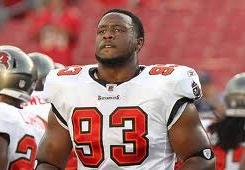 Gerald McCoy appeared this morning on what sometimes is a terrible show, NFL Network's "NFL AM." When that show is co-hosted by that empty-head Nicole Zaloumis, she totally drags the show down to an unwatchable level. All she wants to talk about is friggin' dancing. Otherwise, she rarely opens her trap.
At least with traffic-stopping hottie Molly Qerim, she knows football and is an asset to the show (in more ways than one).
Anyway, the NFL AM crew got GMC to talk about the Bucs' schedule and specifically the opening game against the Stinking Panthers.
"It is going to be fun," GMC said. "They are champions of the NFC South until someone changes that, and we get the first opportunity to take that."
GMC noted that history is on the Bucs' side. The last time the team had a new head coach, former Bucs commander Greg Schiano, the Bucs opened the season against the Stinking Panthers and defensively whipped up on the Stinking Panthers to secure a win at the Stadium on Dale Mabry Highway.
"You never see a team in history that was not a close knit team who people talked about, 'Ah they weren't that close. They just knew how to win.'," GMC said.
"This team, in the short three weeks we have been together, you can already see us growing together and coming together as a team. And our leader, Lovie Smith, is definitely the ultimate professional. What hasn't he experienced? He's won as a position coach, he has won as a coordinator and he has won as a head coach. He knows what it takes to get us where we need to be."