Khalil Mack Visited The Bucs
April 23rd, 2014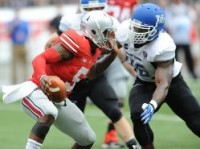 Yes, one of the most ferocious and feared defenders in college football last season made a visit to One Buc Palace yesterday.
This afternoon in the Bucs' locker room, Joe talked to one of Khalil Mack's best friends and former University at Buffalo teammate, Bucs second-year defensive end Steven Means. Joe and Means talked a lot about Mack, and Means revealed that Mack made an official visit to Tampa on Tuesday.
Could Lovie Smith be wowed enough by Mack to not take an offensive player in the first round? It's possible, though doubtful Mack will be available with the No. 7 overall pick.
Mack, however, is billed as a strongside linebacker/edge rusher. That's hardly a pressing need right now for the Bucs, and it's unclear exactly where Mack's greatest strengths may lie within a 4-3 defense.
Regardless, he was here.