"Hawk:" Fined More Because I Make More Money
April 26th, 2014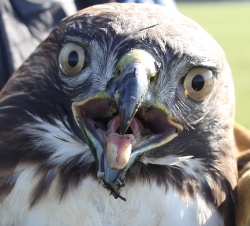 Here's an interesting side note to the end of the Bucs' three-day voluntary minicamp this past week at One Buc Palace. While hard-hitting safety Dashon "Hawk" Goldson seemed unavailable for media, he found time to talk a lot about fines with FoxSports.com.
In this Ross Jones interview, Goldson (rightly) bemoaned how good defensive football has changed, and he talked about the New Schiano Order, new Bucs coach Lovie Smith and the overhaul of the roster.
But in this interview, Joe doesn't think Goldson did himself any favors by claiming the NFL is targeting him with big fines not because he is running afoul of the new politically correct NFL, but because Hawk makes a lot of money.
The seventh-year veteran makes no excuses for his aggressive nature. In fact, he cites his all-out effort as one of the reasons he was able to land a lucrative contract and make a name for himself in the league. He believes that the amount of money each player is fined shouldn't be dictated by the amount that player makes.

"You can't fine a guy X amount of dollars because he makes X amount of money, while another guy is doing the same thing and is getting fined less because he makes less money," Goldson said. "That definitely happens. I was getting suspended and fined hundreds and thousands of dollars and there were other guys who were making illegal hits and they'd only get fined $30k or $50k. I get fined more because I make more money. That's not fair."
Actually, it is fair. So the NFL should run a lower-paid player into bankruptcy? If all fines were equal, then that wouldn't be much of a deterrent to the higher-salaried players.
Look, Joe likes Hawk. He loves how he hits. But this is simply downright whining and dodging the real problem: That unlike the vast majority of other NFL defenders, either Goldson cannot, or was/is, unwilling to adjust his game.
Given how Goldson worked out with his old youth league football coach this offseason to relearn tackling, in order to save money and maybe his career, Joe thinks it speaks to a disconnect Goldson possibly had with the New Schiano Order.