Consensus Range Widens For Bridgewater
April 26th, 2014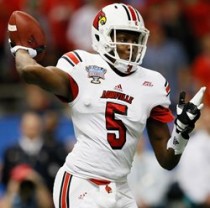 It must be great fun around the NFL Network makeup room. Bucs icon and NFL Network analyst Warren Sapp is telling everyone that Louisville QB Teddy Bridgewater is his No. 1 overall pick in the 2014 NFL Draft, but esteemed draft guru Mike Mayock now says Bridgewater is a bad option in the first round.
Joe cares about this because, without question, the Bucs should draft their quarterback of the future in less than two weeks.
Use whatever one-liner you want: The stage is set. The time is now. The stars are aligned. There's no reason to wait.
For Joe, it's a no-brainer. When you have a new regime with a new offensive coordinator who is a quarterbacks guru, plus a veteran QB in place who is eager to start and mentor at the same time, then you have fertile ground to develop a potential franchise quarterback. (For those new around here, Joe does not think Mike Glennon has that "franchise" potential.)
Who the rookie quarterback should be or could be is unknown. Joe would applaud the drafting of Bridgewater or Johnny Football. But frankly, Joe would be fine with nearly every QB the Bucs might select, assuming the team mindset is that said quarterback is being groomed to be a franchise QB.
Josh McCown doesn't need a long term backup. The Bucs could just keep Glennon to fill that role and not waste a draft pick.
Here's what Mayock told the Petros and Money show about Bridgewater:
"I would say in general, tape is worth about 85 percent of an overall grade, and the rest of the process is set up for red flags, and to go back and watch more tape to try to confirm what you saw or didn't see," Mayock said. "I saw about four of his tapes prior to the combine, and I really liked him. I thought he had a chance to be a franchise quarterback from what I saw on the tape. . . . Except you've got to see the quarterbacks throw the ball live. I've never seen a top-level quarterback in the last 10 years have a bad pro day, until Teddy Bridgewater. He had no accuracy, the ball came out funny, the arm strength wasn't there, and it made me question everything I saw on tape because this was live."
So the Pro Day allegedly sank Bridgewater that far? That's interesting. Keep in mind Jeff Tedford attended that event for the Bucs.