Glennon Acted Like Bucs Leader
April 9th, 2014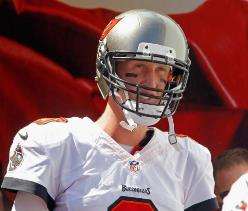 Until early March, Mike Glennon considered himself the starting quarterback of the Bucs. And why not? He started the last 13 games of the 2013 season after former Bucs starting quarterback, leaky, sleepy Rip Van Freeman, went mental.
So Glennon did what a good team leader does,what starting quarterbacks should do. And that was trying to gather players to work out on their own.
Glennon, when he spoke with the Tampa Bay pen and mic club yesterday, discussed how he had regular gatherings with Bucs teammates. And if you at sometime since January thought you saw Glennon throwing a football in a park, you weren't seeing things.
"Well, really, with all the [NFL] rules, it's hard to do a lot with the new offense," Glennon said. "I've just been doing throwing pretty often with some of the guys who hung out in Tampa. Working out, working on trying to get bigger, faster stronger, the typical things in the offseason. Now that we have a playbook I can dive into that and start to master the new offense that we have."
Glennon said that a couple of times a week, he would throw footballs to receivers along with Dan Orlovsky. He and his teammates wanted to use various high school fields to work out, but couldn't often do that due to conflicts of some sort. So Glennon and his teammates took to parks where there were open spaces to run routes.
Outside of Orlovsky, Glennon didn't mention anyone else who participated by name, but did say that the blight upon society, Mike Williams, couldn't because he was still recovering from hamstring surgery and his leg wasn't quite right yet to run routes full speed.