Garoppolo = Best QB "On Tape"
April 9th, 2014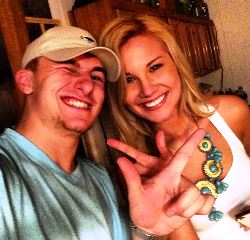 The way former Texans and Redskins general manager Charley Casserly is talking, it seems he'd draft Eastern Illinois quarterback Jimmy Garopplo over Johnny Football.
Joe can hardly breathe after hearing such heresy on the WDAE-AM 620 airwaves this morning.
Joe wants the Bucs to draft Johnny Football, but Joe's absolutely fine with the legitimate criticism of Johnny Football. After all, if he were a sure thing, an Andrew Luck slam dunk, then the Bucs would have no shot to draft him.
So Joe actually was pleased to hear Casserly, now an NFL Network analyst, break down several quarterbacks in the draft today. Among the highlights (you can hear the full audio below), Casserly says Johnny Football has "no pocket discipline" and is "totally unorthodox." That's music to Joe's ears. Hopefully, general managers picking higher than the Bucs will be spooked by such silliness. Who cares that studies have revealed Johnny Football threw for 70 percent in the pocket? Boy, that guy is undisciplined.
On Teddy Bridgewater, Casserly says teams around the NFL have questions about his leadership and build. As for Blake Bortles, Casserly says he's "a ways away." 
Casserly is very upbeat on Garoppolo, who visited Lovie Smith and friends yesterday.
"[Garopplo] probably is the best player on tape, believe it or not. Now level of competition is way below everybody else. Very good vision. Best release in the draft. Can move in the pocket. Arm seems to be good enough. Totally raw, got to start from scratch on him."
One thing Joe agreed with Casserly on? The Bucs absolutely need to draft a QB.