Freeman Finds A Suitor
April 7th, 2014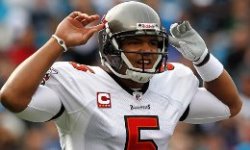 Sleepy, leaky Josh Freeman appears poised to battle with Jordan Palmer and Jerrod Johnson for the Bears' backup quarterback job. Will No. 5 beat out those stellar quarterbacks?
Oh, the drama.
Today, per the Chicago Tribune, the Bears put Freeman through a workout at famed Halas Hall.
Now this speaks well for Freeman. If he was really a walking freak show with radical issues and a disastrous reputation, like many fans and media believe, then the Bears wouldn't even be talking with him. Bears head coach Marc Trestman had a strong first year and isn't in desperation mode, especially when it comes to his explosive offense. 
Most likely, Trestman sees Freeman for what he is — a very talented, experienced 26-year-old with a load more upside than the other quarterbacks on the market, and the ones on his roster.
Joe hopes Freeman lands on his feet. How fun would it be to see Freeman filling in for Jay Cutler when the Bears and Bucs meet this season?
One thing of note, the NFL Players Association and the owners are in the midst of meetings, and Yahoo! Sports points out that the two parties continue to drag their feet in the investigation of Greg Schiano, the Bucs and/or Freeman leaking Freeman's medical information to ESPN.