Bucs Practice Notes: Minicamp Day 2
April 23rd, 2014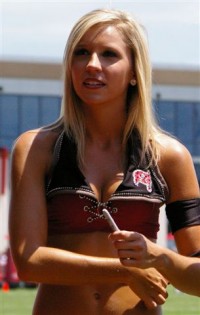 Blistering sun today on the practice fields of One Buc Palace, but Joe's not complaining.
And, of course, Joe's got practice nuggets to satisfy your hunger for all things Bucs.
Special teams coach Kevin O'Dea, as special team coaches are known to do, really brought a ton of energy today. He spent a lot of time on the "off returner" role, aka the guy right in front of the designated kick returner.
Jeff Demps and Bobby Rainey primarily worked there. "Run like you got the ball in your hands," O'Dea barked a few times. Eventually, Demps was praised for getting it right. Eric Page and Skye Dawson worked mostly as the actual kick returners.
O'Dea also was testing guy's knowledge and versatility. At one point, for example, he yelled to WR Lavelle Hawkins to step in to that "off returner" role.  "We just had an injury, Hawk. You're in. Know you're role." O'Dea also put in his share of hips instruction for the blockers on the kick return team. Great stuff for football junkies.
*During QB footwork drills, Mike Glennon is incredibly smooth. QBs then work on moving-pocket drills.
*During cornerback drills working turning while backpedaling and running for ball, cornerbacks Gil Byrd yells at Rashaan Mevlin, very nice Rashaan, VERY nice.
*Wayne Fontes is here.
*Those chrome helmets really shine in the bright sunlight.
*Few passes throw Brandon Myers' way, he has hauled in all.
*Safety Bradley McDougal skies high to prevent a pass from getting to Steve Maneri.
*First for Joe: assistant coach wearing a headset at practice.
*Another day of intensity from Byrd with his cornerbacks. No shortage of energy with that guy.
*In 1-on-1 pass coverage work, Josh McCown hit Myers short, which drew a lot of praise from tight ends coach Jon Embree.
*A couple of tight throws and catches from McCown to Bobby Rainey. Mason Foster in coverage. Rainey drew praise from McCown, "Good route, Bobby!"
*First long TD pass of the day, McCown to Tim Wright, covered by safety hopeful Bradley McDougald.
*Cornerback hopeful Marc Anthony pulling jersey of Myers in coverage. Got a scolding for that.
*McCown complete to Jeff Demps. Touchdown with Mason Foster five yards behind him. Foster laughing in end zone with Demps saying that's "not fair."
*Lots of praise through the day for Wright from coaches, though he's reminded to "finish" after the catch. Lovie wants his men running hard long after drill-play is dead.
*Cue the Rutgers fight music Uh, oh, Schiano holdover Ka'Lia Glaud picks off Josh McCown. Then Glaud picked him off an hour later!
*On the next play from scrimmage with seven defenders, Demps beats Glaud badly but drops 45-yard pass. Not a good way to make the team, Demps.
*Tight end Steve Maneri embarrasses Keith Tandy in 1-on-1 work. Tandy is grilled by coaches "no guessing."
*Circus, smart catch by Louis Murphy. He came back to ball from end zone and got his toes in at about the 1-yard line. Murphy got a lot of love.
*Chris Owusu sighting. He hauled in a nice touch throw from McCown, roughly a 25-yard crossing route.
*Of course, the second practice of voluntary minicamp is way too early to decipher anything from Bucs offense, but it sure seems like Vincent Jackson is Josh McCown's favorite target.
*Murphy makes a diving catch of a Mike Glennon offering to the right side.
*So far, middle linebackers are covering Doug Martin coming out of the backfield on pass routes down the middle like a second skin.
*Dawson makes a sweet catch of a McCown offering along right sideline.
*Glennon picked by CB Bobby Felder after a juggled, tipped ball by Louis Murphy. Not too bad of a throw, but maybe it rattled Glennon. His next pass was off and nearly intercepted by Johnthan Banks.
*Next play was McCown out sync throwing past the outstretched hand of Tom Crabtree. Perhaps the QBs were feeling the heat in Hour 3 of practice.
*Alterraun Verner breaks up McCown pass to Owusu. Excellent play.
*Glennon hits Murphy in the numbers over the middle.