Zuttah Believes Bucs Wanted Him At Guard
March 25th, 2014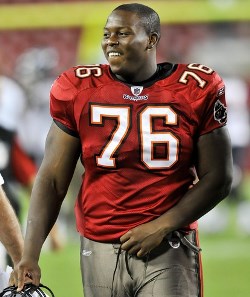 Joe's already documented the woefully thin Bucs' offensive line corps. Thankfully, it's only March, but the lack of depth and starting experience is still somewhat alarming.
An interesting nugget to come from the mouth of versatile former Bucs guard/center Jeremy Zuttah today makes Joe wonder what the Bucs have planned.
Zuttah, who is an extremely intelligent, level-headed guy, never a negative word surrounding his six seasons with the Bucs, told SiriusXM NFL Radio today that he believed the Bucs wanted him to play guard but shopped him around the league as a center after signing Evan Dietrich-Smith.
Zuttah, now pegged as the starting center for the Ravens, said that's where he's most comfortable and prefers to play.
"[The Lovie Smith regime] said they really liked me as a player, just depending on where they were going in free agency would just change their plans for me. So I guess when they signed a center, I think their plan was they wanted me to play guard," Zuttah said. "But they gave me the opportunity to see if another team wanted me as a center. And Baltimore really wanted me and they were able to get something done."
That sounds like a roll of the dice by the Bucs — and a nice gesture, too. Zuttah was appreciative that the Bucs approached him about continuing his career elsewhere at his preferred position. Zuttah noted that he's never had a chance to settle into one position.
Tampa Bay valued Zuttah and learned he had market value. Factoring in his contract, $4 million+ for 2014, Lovie and Jason Licht opted for the extra spending money and the potential of a fifth-round pick. It was a true "value" call. But Joe can't imagine a Bucs fan saying the trade improved the team, given Zuttah's diverse game and youth.
If nothing changes, Joe's sure the Bucs will draft a couple of offensive linemen come May.
As for the crumbling of the New Schiano Order Buccaneers, Zuttah said of the "personal attacks" on Greg Schiano and the turmoil surrounding the team: "It's hard to imagine it not affecting you."