Why Is Mike Williams Ducking The Bucs?
March 24th, 2014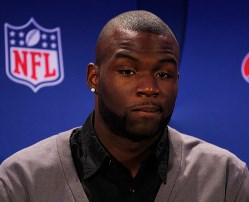 Now Joe's not going to be an idiot and want to nail Bucs receiver Mike Williams to a tree because he was stabbed in his own home yesterday by his brother, allegedly, who remains on the run from the law.
Williams is a victim. He was home — not fighting over some chick in a bar at 3 a.m.
No, Joe is not disturbed by this. Why should he be? But there is something raising Joe's antennae; it appears Williams is trying to hide from the Bucs for some odd reason.
Bucs beat writer Greg Auman of the Tampa Bay Times writes that the Bucs have tried to contact Williams to offer their well wishes on a speedy recovery. But, per Auman, Williams isn't picking up the phone.
@gregauman: Bucs GM Jason Licht says neither he nor Lovie Smith have talked to Mike Williams since he was stabbed in thigh Sunday. Tried reaching out.
Now this is odd. Why would Williams avoid his employer like this? This is strange.
No, Joe cannot get worked up over a victim being stabbed in his own home. But not picking up the phone when your employer calls, or not returning calls, that just seems weird and, frankly, reinforces all the negative stuff that has been floating around about Williams since he was placed on the injured reserve list.