"Victory"
March 19th, 2014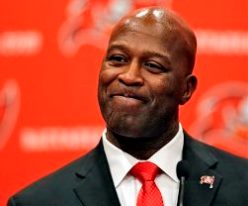 For those who monitor prickly Pete Prisco, of CBS Sports, on Twitter, you know the guy is a bitter dude. Angry. Snarling. Sometimes, Joe doesn't know if prickly Pete can crack a smile.
So to get prickly Pete to throw rose pedals of respect to an NFL team is quite an accomplishment. That's what Bucs general manager Jason Light got. Prickly Pete is so pleased with Licht's work the past week or so, prickly Pete gave Licht and the Bucs an A-grade for free agency.
I love what the Bucs have done the past few months. I like the hiring of general manager Jason Licht and coach Lovie Smith. And I like the haul they took away during free agency, while getting rid of a corner in Darrelle Revis who had a huge contract and cap number.

They essentially took his number and added three players. That's a victory.

The Bucs signed a defensive end in Michael Johnson (Bengals) who gives them a pass-rush threat on the outside. They added a starting left tackle in Anthony Collins (Bengals), a starting corner in Alterraun Verner (Titans), a pass-rushing defensive tackle in Clinton McDonald (Seahawks) and a starting center in Evan Dietrich-Smith (Packers). That's quite class for Licht and Smith.
This also brings a smile to Joe's face but it is tempered. All too often the winners of free agency are not the winners when chin snaps are buckled and pads crack for real. Did the Bucs make headway? It sure seems like they did… on paper.
Only time will tell if the Bucs are a playoff team or not. At least on paper, it seems they took a step closer.