Trade Winds Blowing For Glennon?
March 19th, 2014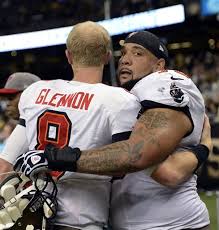 Joe's hardly a fan of Todd McShay and helmet hair Mel Kiper, the BSPN draft gurus. Joe respects Kiper's career accomplishments and, yes, these guys put in year-round effort on the draft, but their work is suspect at best compared to Mike Mayock and many of their draft-guru colleagues.
However, that's not to say Kiper and McShay don't have excellent sources and access to NFL decision-makers.
They travel to Pro Days and mingle with the scouts, agents, coaches and personnel that show up for these things. So it was noteworthy to Joe that Kiper mentioned twice during his BSPN podcast yesterday that he expects NFL teams to start seeking out Mike Glennon via trade.
Kiper's belief is that the top quarterbacks available in the 2014 NFL Draft are deemed worthy of mid-first-round slotting, based on his discussion with NFL personnel people, in addition to his own work. And the availability of surefire, non-QB prospects, per Kiper, is likely to drive teams like the Raiders and Browns toward drafting one of them and seeking a cheaper, viable quarterback option elsewhere That fueled Kiper's claim that Glennon could be that QB target and Jason Licht's phone could start buzzing.
Somehow, Joe doubts Kiper pulled Glennon's name without hearing it from a noteworthy source(s).
On the surface, it makes some sense. If general managers in need of a quarterback get spooked by not taking the best player available in favor of Teddy Bridgewater or Johnny Football, for example, then yeah, maybe teams look to Glennon as a guy who could compete and slot in well as an inexpensive backup at worst.
Joe, however, can't imagine Glennon has much trade value. But maybe he does if your options are Matt McGloin, Terrelle Pryor or Josh Freeman?