Tight Rules, Monitoring On Lovie's Watch
March 6th, 2014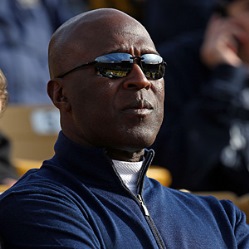 Laid back Lovie Smith is very much on top of what's happening in his locker room. Funny business is not permitted. No hazing. Lovie demands to know what's being said. 
Former Bears great Brian Urlacher reminisced with the Waddle and Silvy show on WMVP-AM in Chicago this week.
Urlacher painted a picture of New Schiano Order discipline but with players feeling a lot looser and having fun with each other with games like dodgeball, soccer and other silliness.
"Lovie didn't allow hazing. Nothing," Urlacher said. "You had to buy donuts whatever on Saturday, bring McDonald's to a meeting sometimes; he didn't allow hazing. So it was never an issue with the young guys fitting in with us. Most of our older guys kind of took them in right away. So there was no line between rookies and veterans, anything like that. You know, there was a little bit, because that's the way it is. For the most part they always fit in and there was never any issues with that."
Urlacher went on to say Lovie was "always" dialed into the pulse and details of his locker room. Among other methods, Lovie summoned Bears captains to his office and "wanted to know what guys were saying," in the locker room, Urlacher said, and Lovie got the information straight.
None of this is a huge revelation, but it is interesting nonetheless.
Lovie's methods and message will have to get through quickly. He's got a lot of guys on his roster, like Da'Quan Bowers, Mike Williams, Mason Foster and others, who are on their third head coach and even more position coaches in just a handful of years.