Fans Focused On Wrong Vikings DE?
March 6th, 2014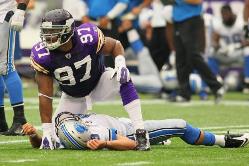 For almost a year, some Bucs fans, in a perverse way, were looking past the 2013 season to the free agency season of 2014, hoping, drooling that Vikings defensive end Jared Allen would become a free agent and the Bucs could land him.
As the Vikings circled the drain, the possibility of Allen's freedom increased. Then, after Bucs coach and defensive-minded Lovie Smith hired Allen's former coach Leslie Frazier as Bucs defensive coordinator, the potential of Allen coming to the Bucs became all too delirious to ignore.
Even Joe has been on the bandwagon carrying Allen from the frozen north to the warmth of Florida's gulf coast. But maybe, were we all focused on the wrong Vikings defensive end free agent? Could it be, rather than Allen, the Bucs are eyeing Everson Griffen? It seems NFL analyst Evan Silva of Rotoworld.com believes Griffen, not Allen, would be the perfect signing by the Pewter Pirates.
@evansilva: No better FA fit for #Buccaneers than Everson Griffen. Leslie Frazier tie, fills huge need, young, versatile, tremendously high ceiling.
Forgetting about Griffen's checkered legal history for a moment, Joe, not knowing a whole lot about Griffen's on field activities, went to Google for research. And, well, if the Bucs are counting on Griffen to be their dominating edge rusher, he's no Allen.
Griffen, 26, has never been a starter in the NFL but, per NFL.com, has "flashed" potential dominance. That's no ringing endorsement. Then Joe checked his numbers, which aren't any better than Adrian Clayborn's. Last year, playing in all 16 games, Griffen had 5.5 sacks, the same as Clayborn.
So if Clayborn's numbers were, as Lovie said, "solid" which will get you 4-12, what does that say about Griffen, who has never started in the NFL?
Could the Bucs sign Griffen? Yeah, as a backup, but the Bucs still need a reliable, double-digit sack guy from the edge. Griffen doesn't appear to be that guy. Yet.