Revis Release Reaction
March 13th, 2014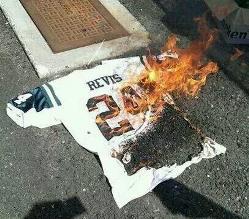 Joe has calmed down considerably from yesterday's kick-in-the-groin news that the Bucs threw to the ditch all-world cornerback Darrelle Revis. Joe just wanted to dropkick the neighbor's cat he was so outraged. It is quite likely Bucs fans will never see the likes of Revis at corner again.
The NFL itself, though it wasn't shocking, rumbled last night with news that Bill Belicheat signed Revis for a cool $12 million. Not just Bucs fans were upset but it appears Jets fans have now taken to the streets in anger, and not just because they are homeless.
Pat Kirwan and Jim Miller, co-hosts of "Movin' the Chains" on SiriusXM NFL Radio, had their take on the Bucs tossing Revis out with the garbage. Click the orange button below to hear their views.