Love Is In The Air
March 13th, 2014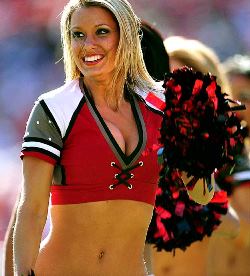 Bucs fans are hugging their bedtime teddy bears firmly these days as the Bucs are reworking their roster like a local Hooters replacing the help after a May college graduation.
New defensive backs, new offensive linemen, a new quarterback, new defensive lineman, it is an incredible whirlwind of activity at One Bucs Palace short of a cheerleaders practice.
Bucs fans are so giddy, the only people irked are the Josh McCown Deniers.
Count Adam Schein among those throwing month-late Valentines. He penned his latest piece for NFL.com blowing kisses to Bucs general manager Jason Licht.
LOVE: Tampa Bay Buccaneers cut Revis … sign Alterraun Verner, Michael Johnson and Josh McCown

Lovie Smith was never paying Revis $16 million a season — it didn't fit his system. Also, Lovie wasn't the one who traded for Revis in the first place, so cutting him was a no brainer. Tampa Bay smartly replaced him with my guy Alterraun Verner, who fits like a glove. Michael Johnson is another defender in the Lovie mold — a strong run stuffer and pass rusher on the edge.

And Lovie wanted a veteran quarterback to lead a group that he believes is ready to win now. I'm a noted Mike Glennon fan, but again, he was brought in by the old regime. Josh McCown is logical, and the experienced signal-caller played great for Chicago a year ago.
Right now in the middle of March where most people have green beer on their minds and most of the country is hoping for the end to an seemingly unending winter, it's easy to get worked up for the moves the Bucs have made.
How they pan out, we won't know for a good six months.