Revis Deal Continues To Flummox
March 17th, 2014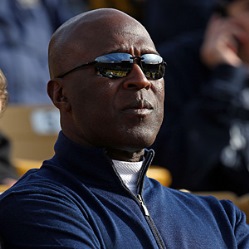 For a couple of reasons, Joe often brings you the Bucs-related takes of fight-instigating, barista-training, pedestrian-bumping, olive oil-lapping, popcorn-munching, coffee-slurping, fried-chicken-eating, oatmeal-loving, circle-jerking, beer-chugging, cricket-watching, scone-loathing, college football-naïve, baseball-box-score-reading Peter King, of NBC Sports and Sports Illustrated fame.
First, they're often interesting. Second, King is plugged into so many NFL general managers, executives and players, that King's takes are often reflective of more than just his own brain.
In today's edition of his Monday Morning Quarterback column, King continues to express his disbelief that Lovie Smith cut Revis. Here's an excerpt:
The Buccaneers cut Revis because he isn't a great scheme-fit for the Tampa 2 defense, in which corners must be more physical than if they were left on islands to simply cover receivers short and deep. I get that. But last year, according to Pro Football Focus, defenses played three or more corners on 58% of the NFL's defensive snaps. Revis is the best cover man in football. The cap rose by $10 million, and Tampa Bay could have afforded to do most or all of what it did in free agency and keep Revis, who already cost the team first- and fourth-round picks in addition to the contract that paid him $16 million a year.

I get new coach Lovie Smith wanting a clean slate and not wanting the onerous Revis contract. But if you told me the league's best cover corner could be had in this era of pass-happy football, in a division with quarterbacks Drew Brees, Matt Ryan and Cam Newton, for 12% of my salary cap, I'd say, "Where do I sign up for that?"
For Joe, what will forever complicate the Revis move is Bucs general manager Jason Licht and Lovie clearly stating that they wanted Revis back and were working with Revis to renegotiate his deal. Just how much the Bucs were willing to pay Revis is unknown. It's safe to assume the Bucs and Revis were about $4 million apart.
Is that a lot of cash to gamble to see what a potential Hall of Famer, healthy and in his prime, looks like in your defense?
Yes, Joe understands the Bucs went shopping with their post-Revis windfall. They bought some quality, fresh groceries. But that won't end the Revis debate anytime soon.