Report: Williams Was "Roughhousing"
March 23rd, 2014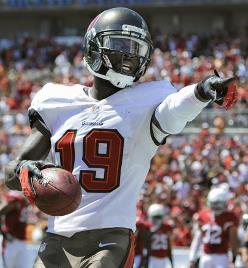 [UPDATE: 11:45 p.m. Tammie Fields of WTSP-TV Channel 10 reported that it was witnesses that told police Williams was "roughhousing" with his brother when he was stabbed.]
[UPDATE: 11:18 p.m. WTVT-TV Channel 13 is reporting Hillsborough County Sheriff's Office expects to issue a warrant for the arrest of Mike Williams' brother, who authorities believed stabbed Williams today. Currently, the alleged assailant remains on the run from police.]
Yes, Bucs wide receiver Mike Williams was stabbed this afternoon in the thigh. In his home. That much we know.
The Hillsborough County Sheriff's Office, which noted they are receiving conflicting reports of what happened, claims Williams may have engaged in "roughhousing" when the incident occurred.
That's the word from Caitlin Johnston of the Tampa Bay Times.
Shortly after 9 p.m., the brother had not been named as either a witness or a suspect, Nunez said.

Williams, 26, was transported to St. Joseph's Hospital and is in stable condition, Nunez said.

Bucs coach Lovie Smith, when reached at the NFL owners meetings in Orlando, said "there was an incident involving Mike and we are gathering information. "He may have been the victim."
Now the first thing that goes through Joe's mind is, who the hell roughhouses with a friggin' knife? That sounds completely absurd. Joe's not sure children would pull that kind of stunt.
As of the typing of this post, almost 11 p.m., Williams' brother remains on the run from authorities. If he was innocent, why run?