Cops Receiving "Conflicting" Information
March 23rd, 2014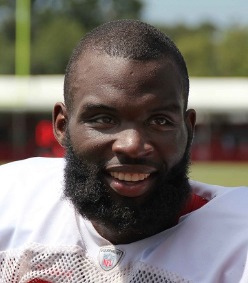 [UPDATE: 10:20 p.m. Per WFLA-TV's Candace McCowan, Bucs wide receiver Mike Williams has been discharged from the hospital.]
It may be a while before Bucs fans find out exactly what happened when Bucs receiver Mike Williams was stabbed in the thigh in his own home this afternoon. Initially, it was believed Williams was stabbed by his brother.
But after interviewing witnesses and trying to reach Williams' brother, who remains on the run from authorities, it seems there is not a clear picture of what happened in Williams' posh Avila home, per Woody Cummings of the Tampa Tribune.
Deputies were called to Williams' home in the gated Avila community at about 5 p.m. Sunday in response to what they were told was a stabbing, Hillsborough County spokesperson Cristal Bermuda Nunez said.

When deputies arrived at his home, they learned Williams had been stabbed in the thigh, but interviews with several witnesses conflicted.
Joe is going to reserve judgement until all the details are known. If, indeed, Williams was stabbed by his brother at home, it's hard to give Williams too much grief. What, is he supposed to live with priests in a rectory? The dude was at home. The best way to avoid trouble is at home.
Williams, as of this typing, remains in St. Joseph Hospital in Tampa recovering from his wounds.