Report: Data Guru, Johnny Football Man Hired
March 10th, 2014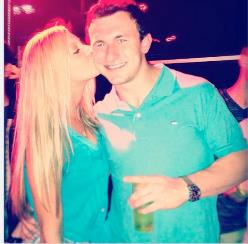 Credible buzz flying around the Interwebs has known spreadsheet guru Tyler Oberly now on the Buccaneers staff as "manager of analytics," so his Twitter feed claims.
It's no surprise to learn NFL teams are diving deep into stats looking for an edge, but quarterback-hungry Joe finds it notable that Oberly just left his longtime gig at TheSidelineView.com, which does extensive draft analysis and considers Johnny Football the No. 1 overall prospect in the 2014 NFL Draft.
Here's a bit of Oberly's background from the website:
Studying electrical engineering at the University of Toledo, Oberly began developing a statistical model to review NFL rosters for player and salary cap analysis. After performing business and risk analysis reports for the past five years in the industrial world, Oberly's model has evolved and integrated database science to reveal players' and teams' unique rankings; in turn, these rankings expose important patterns and anomalies in performance that are considerably less evident using conventional evaluative approaches.

Previously a contributing writer for NFL Draft Bible and College Football Insiders, Oberly has written football analytic reports for several teams in the NFL.
Joe's not a big fan of the spreadsheet crowd, but Joe does respect much of their work, especially when it's not performed by beer-swilling volunteers who mistakenly believe they know what they're watching. Like in any other profession, football statistical trends can be identified, studied and evaluated to help make better decisions. The hardest part, however, is to interpret the data properly.
Joe wishes Oberly and the Bucs great success in their enhanced analysis efforts.