Replacing Joseph With "Nasty" Asamoah
March 9th, 2014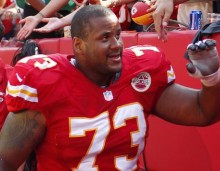 The guard drafted one selection after Myron Lewis in the third round of the 2010 NFL Draft, Jon Asamoah, is a man the Bucs should be chasing hard in free agency. (Thanks, Dominik.)
That's the word from Buccaneers Radio Network analyst Anthony Becht, the former Bucs tight end who played with Asamoah on the Chiefs in 2011.
The release of Davin Joseph yesterday sent Becht to Twitter to lobby for his former teammate. 
@Anthony_Becht

–  Ok

#Bucs

release Davin Joseph.. Better have a plan w/ that one. Asamoah needs to be in play from KC. Big/strong/nasty. Need a "Top" tier guy
 The 25-year-old Asamoah was a three-year starter with the Chiefs and Joe's only read good things about him out of Kansas City.
Reports from the New York Daily News have the Jets hot on Asamoah's trail and ready to plug him in as a starter to replace Willie Colon.